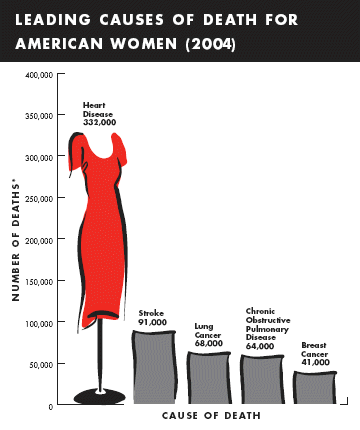 One of the staples of the American Heart Association's advocacy efforts has always centered on women and heart disease. We recognize that heart disease is the number one killer of women, but it is amazing to see how few people actually realize that and it is even more shocking to realize the right tools and supports are not in place to address this deadly killer. In the past our support has taken the form of an independent bill that we called the Heart Disease Education, Analysis Research, and Treatment
(HEART) for Women Act
. Many of you may know the bill and have supported its passage. As the healthcare reform debate continues to spark debate in Congress, we have learned that Sen. Debbie Stabenow (D-MI) has taken the HEART for Women Act and adapted it be an amendment to the Senate's Patient Protection and Affordable Care Act (H.R. 3590).
The AHA has joined with the Society for Women's Health Research and Women Heart, to support Senator Stabenow's amendment. In a letter to the Senator, our organizations recognized that "health care reform provides an opportunity for Congress to reduce the cardiovascular health disparities that women face" and we thanked the Senator for stepping forward for all American women. The amendment would expand to all 50 states the CDC's WISEWOMAN program and require the FDA to report safety and effectiveness data by gender, race, and ethnicity in order to shed new light on how drugs work among specific populations. These are exactly the kinds of advancements we need and we are urging the full Senate to support Sen. Stabenow's amendment.
You can do your part by sending a message to your Senators today!
Regardless of our Senator's views on the overall Senate bill, we must let them know that we are counting on them to find common ground and support provisions that will have a real impact on the health of patients, such as the HEART for Women amendment.